3D PROPERTY TOUR
The ultimate tour of any space
Give your clients a 24/7 Open House with a truly life-like and interactive view of the property
Generate Excitement and funnel true buyers to viewings
Close properties faster!
3D VIDEO
An amazing video to wow your customers
Highlight the the property exterior and a tour of the interior.
Integrate into a drone fly-over video
VIRTUAL REALITY TOUR
"It's like you're actually there!"  
Wow you clients with this amazing new technology that lets them tour a property from anywhere in the world using an inexpensive headset and their smart phone.

All you need is a Smartphone (iPhone or Android) and a Cardboard or GearVR headset - you and your clients can start experiencing some amazing spaces in VR right now!
TRY IT OUT
SAMSUNG GALAXY S6/S7 WITH GEAR VR HEADSET - Download the Matterport App on the Oculus App store
iPHONE WITH CARDBOARD HEADSET - Download the Matterport VR App on the Apple App store
ANDROID SMARTPHONE WITH CARDBOARD HEADSET - Download the Matterport Cardboard App on the Google Play store
 Then simply click on the Glasses icon on the bottom right of any 3D Tour and choose Cardboard or GearVR viewer. Prepare to be amazed!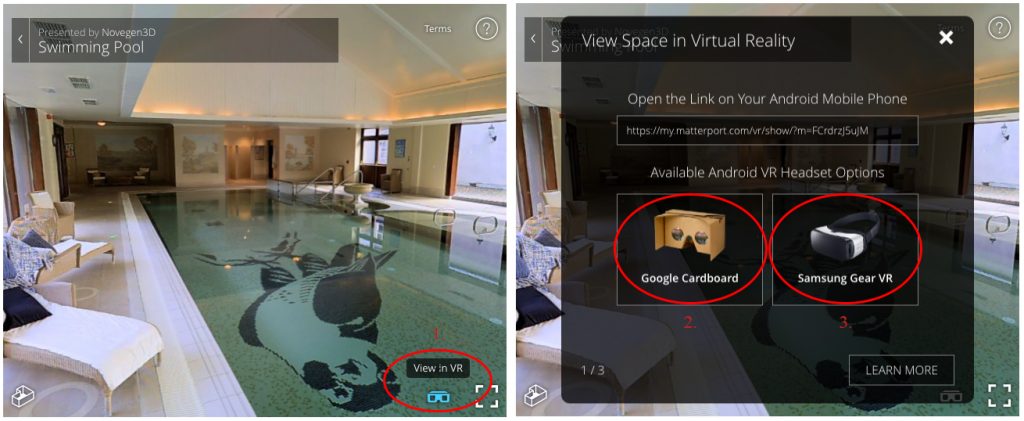 FLOOR PLANS
Floorplans your customers will love
See each floor in  lifelike colour with furniture in place alongside standard floorplans
PROFESSIONAL PROPERTY PHOTOGRAPHY
The most stunning property photography
Minimise disruption to your clients with a combined 3d scan and photography shoot.
Display 3D Interactive tours, 3D videos and Professional Photos in a modern and cohesive package.
HELP & SUPPORT
We want you to get the best value possible from your 3D Interactive Tours.
We provide unparalleled support from the start to finished display of each property.
Help embedding tours, videos and photos into your site or your clients site.
We're here to help you share your  3D Interactive showcases and 3D Video Brochures on Facebook and other social media.
plus
Support for staging of properties if required.
A full web design service is also available.
Questions? Please get in touch - we're here to help!